Vendor Table 2015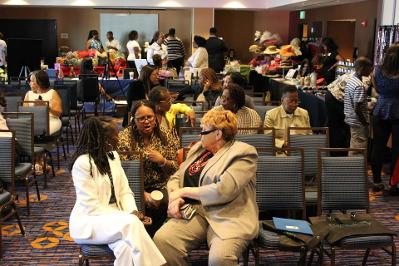 $ 50 USD
NOTE: SOME COMPANIES PROHIBIT DUPLICATE SALES REPRESENTATIVES AT THE SAME EVENT. WE HONOR THAT REQUIREMENT.
_________________
Women Leaders & Entrepreneurs Summit and Business Expo 2015
4th Annual
Friday, August 21st, 2015 @ 9am-2pm and Saturday, August 22nd, 2015 @ 9am-3pm
The Marriott Courtyard Downtown Newark, 858 Broad Street, Newark, New Jersey
VENDOR TABLE RENTAL AGREEMENT
Vendors may begin set up at 7am. Vendors must set up prior to the start of the event. Tables are limited so please show up on time or contact our Vendor Coordinator to ensure that your (paid table) is reserved for you. Table reservation is on a first come first serve basis. Due to the size of vendors we are not able to ensure "product exclusivity" however, we will honor those companies that have as written polices "no duplicate representative" allowed at the same event at the same time. In this case we will honor those vendors that pay the vendor table fee first. (Vendors are welcome to attend Friday's workshops for Entrepreneurs and Leaders for FREE. However, you must register. Seating is limited.)
Table Rental Cost: $50.00 per table. All payments are due with completed agreement. Table rental allows you to all activities of the event. Parking is on your own. (Hotel Parking is around $7-10 for each day. However, you must be out by 5:00pm to get this low rate. If you stay beyond 5pm you will have to pay a higher than $10 rate.) Your vendor fee covers one (1) table and one (1) chair. If you want to bring someone with you they will be charged the regular attendee rate of $30 each day or $50 for both days. (Please bring your own table cloth). Your fee does include Lunch and other activities.
Get the vendor form from the link below. Complete the form and send to: coachlilisa@release-your-power.com
Confirmed Vendors:
Traci Lynn
Tru Talentz